After you registered, you have 14 days to make sure that the functionality of the system is suitable for you. At this time, you have a trial tariff plan enabled, where all the features of the service are available to you without restrictions.
At the end of the trial period, you need to choose one of the offered tariffs. While it is not selected, AinurPOS works in view mode, i.e. you cannot create new objects (products or customers) and perform operations.
The main difference between the tariffs is the number of connected employees and the number of stores you can work with. Thus, there is a clear division in AinurPOS by the size of businesses. If you work for yourself in a small shop and you have a couple of assistants, then the initial tariff is enough for you, if you have a large business with a chain of stores and a large number of employees, then you already need a professional tariff.
How to pay?
To select and pay the tariff, you need to go to the Billing section and click the Change Plan button
In the screen that opens, you can select the desired tariff. If necessary, add additional employees or stores. Select the payment period.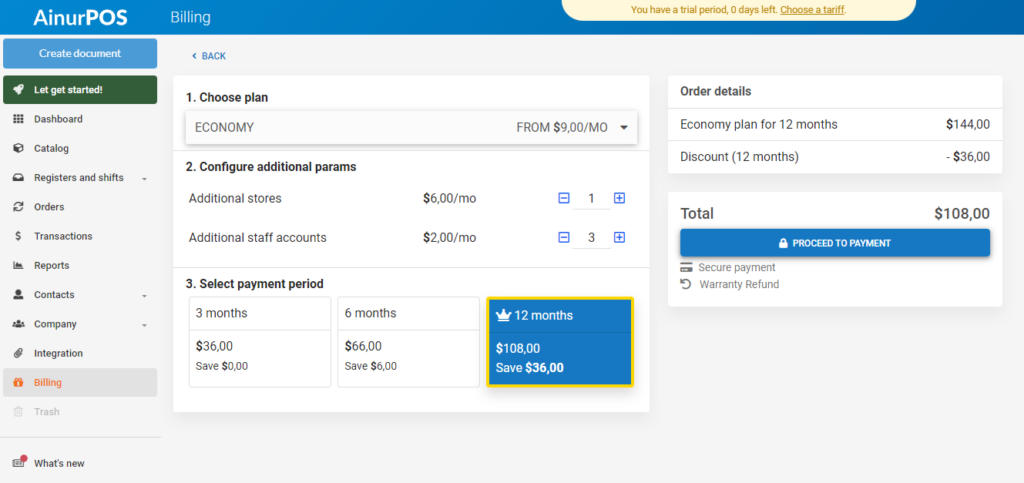 How do accruals and write-offs occur?
After choosing and paying the tariff, the money goes to your internal personal account. Every month, the payment for the past month of work is debited from it according to your tariff plan.
How to get a discount?
The minimum period that can be purchased is 3 months. If an annual tariff is purchased, then you get an essential discount. Up to 20%.
How much do additional users and stores cost?
Additional stores or the connection of employees are paid in excess of the tariff. The cost varies for each tariff. There are no restrictions on the number of stores and employees at the maximum tariff.
What happens if I don't pay for AinurPOS services?
You and your employees will be able to access the functions only in the viewing mode. After payment of the tariff, access to AinurPOS features will be resumed.
How does the refund work?
Refund — only from the balance on your AinurPOS account. If you want a refund, write to the support chat, and specify the name of the company and the reasons for the refund.
And another question is possible?
You can ask any questions in the support chat. Support is free on any tariff.